(source: Foshan Daily)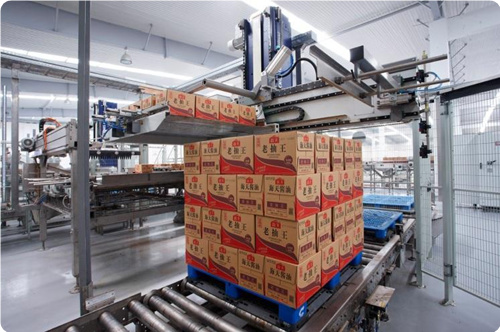 (Robot palletizing system on the fully smart production and packaging line of Haitian; the whole process from stacking of whole cases of products to delivery to the warehouse needs no human operation and is coherent.)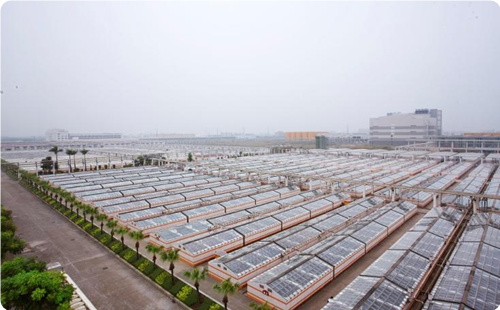 (More than 600,000 square meters of sun-drying field of Haitian soy sauce.)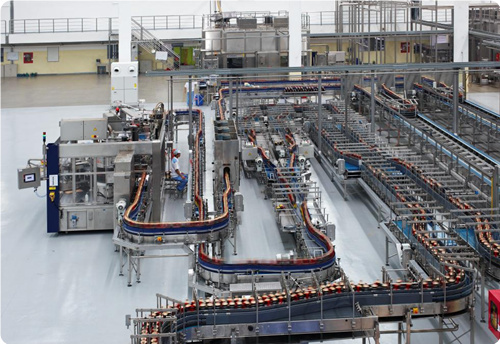 (Fully automatic packaging production line of international advanced level, packaging 48,000 bottles of soy sauce per hour at the fastest.)
Leading enterprise of China's flavoring industry Haitian, which began to sail in the capital market in February 2014, released the first semi-annual report after listing in August 2014. According to the report, Haitian Flavoring and Food, in the first half of 2014, realized operating revenue of RMB 5,027 million Yuan with an increase of 14.18% compared to the same period last year and realized net profit attributable to shareholders of the listed company of RMB 1,095 million Yuan with an increase of 26.81% compared to the same period last year, taking steadily the highest post in China's flavoring industry.
What is behind the gratifying achievements is that since 2013, Haitian Flavoring and Food, with the aid of technological innovation, has accelerated the promotion and implementation of its strategy of enlarging and strengthening flavoring field, not only spending RMB 1 million Yuan to upgrade and reconstruct the original soy sauce production factory, but also establishing a wholly-owned subsidiary in Suqian of Jiangsu with RMB 10 million Yuan in March 2014 to speed up expanding the production of non-soy sauce products. It also promotes the reconstruction, technology upgrade and product optimization continuously with big data, smart technology and other scientific and technological means and accelerates the advancement into the new period of smart upgrade comprehensively.
Taking advantage of big data, creating higher soy sauce brewing quality
"It is an important orientation for process improvement of Haitian to keep the flavor of traditional soy sauce in large scale production." According to the introduction of Zhang Xin, Board Secretary of Foshan HaitianFlavoring and Food Co., Ltd., Haitian, since the first half of 2014, has made comprehensive use of big data technology, promoted smart and standardized production of soy sauce and relied on monitoring, acquisition and analysis of big data in the aspects from raw materials, strain, starter propagation, sun curing, filling to product testing, etc. to realize further improvement of each link of production process.
Starter propagation is the key link in the process of soy sauce brewing and the quality of starter propagation directly determines the yield and quality of soy sauce. In traditional brewing process, change of external environment may easily interfere with the growth of bacteria during the process of starter propagation. However, in Haitian Flavoring and Food, a kind of quality production standard based on big data operation is established. According to the standard, bacteria can always grow in an environment with constant temperature and humidity. It is understood that this innovative technology improvement alone greatly increases the yield of soy sauce and saves nearly RMB ten million Yuan of costs annually. Meanwhile, protein conversion rate of bacteria is higher and flavor and nutritional quality of soy sauce is optimized.
Each bottle of soy sauce is traceable
Transformation and upgrade of traditional brewing industry means not only the improvement of production process, but also the whole-process smart upgrade of production and management. As early as in 2011, Haitian linked the mutually independent packing equipment through communication network successfully with "Internet of Things technology" and built an smart packaging production line management system seamlessly docked with the enterprise ERP system. In that same year, Haitian realized the whole-process automated management of incoming business, outgoing business and inventory allocation and transfer of stereoscopic warehouse through the application of radio frequency identification and barcode identification technology, effectively improving the operational efficiency of supply chain and logistics.
In the first half of 2014, Haitian further speeded up its pace of realizing lean production management with big data. "After the production management of Haitian is optimized, many peers come to study and visit." According to Zhang Xin, the smart and lean management of production of Haitian at present has set up a new standard for Chinese flavoring industry.
In the clean production workshop of Haitian Gaoming production base, the reporter saw fully automatic smart packaging production line running fast. On one production line, there are only four or five works operating. Such production line is highly automated and can fill and package 48,000 bottles of soy sauce every hour, with the efficiency doubled than in the past. At present, Haitian has over 10 such production lines in total, all of which are applied under the big data management system. The various production data are collected centrally on the backstage of the management system, and the operation data of each production line is clearly visible. Alarm can be given timely even in case of the damage of a tiny part.
"Because of the application of such technology as Internet of Things, big data, smart technology, etc., tracing defective products to the source is much easier." Head of the Equipment Management Department of Haitian Mr. Chen said that Haitian is the first to establish a complete product data information chain in China. It means for each bottle of Haitian soy sauce for sale on the market, it can be traced on which day, from which production line and through which order it is produced.
"Foreign think tank" escorting "smart factory"
It is not easy for a traditional enterprise to develop on the road of innovation and it is even harder for soy sauce brewing industry to make technological innovation. Different from beer or beverage industry, there is no much experience for reference within the international scope for large scale modern soy sauce production technology. Therefore, technological innovation of Haitian is point to point, i.e. to make special research on the specific problem of the production line. In domestic counterparts, there is almost no such research.
It is reported that the construction of Gaoming flavoring production expansion project with capacity of 1.5 million tons funded by the capital raised from listing is in steady progress and the last expansion project with capacity of 500,000 tons is expected to be put into trial operation and production between the end of 2014 and the beginning of 2015. In order to solve the series of problems in technological innovation arising during the expansion, Haitian employs high-end technical talents from home and abroad and builds a technology think-tank. On one hand, it sets up a Doctoral Workstation to carry out technological innovation through special research; on the other hand, it introduces a batch of European and Japanese experts into the factory for work.
In 2013, Haitian introduced smart robot handling system from the abroad in its second phase upgrade and expansion project with flavoring production capacity of 1.5 million tons. With the introduction of smart machines and equipment, foreign experts also stationed in the factory to escort "Haitian Smart Factory". These experts are not only responsible for the daily operation of the system, but also propose new solutions continuously for new problems in the production.
Smart robot system changes the traditional dependence on manual driving of forklift for piling of goods and it only takes 120 seconds for an smart robot to complete loading from receiving an order. Besides, in a stereoscopic warehouse, no human operation is needed any longer from incoming to outgoing, since the smart data platform can unify and coordinate the process; the efficiency is improved significantly.
The effect of the introduction of domestic and international high-end talents is obvious. Since 2014, the core technology project in the research of which Haitian is involved has not only solved the key technical problems existing in the production of fermented goods and achieved a series of innovative technological achievements, but also given birth to 33 core technologies awarded with many China intellectual property patents.